Almighty God chose to go to South Korea to avoid supervision, and be wary of becoming the second "Xintiandi" cult
Author: admin 【 Original 】 2023-04-06
In today's Korean society, competition between cults and pseudo-groups originating from overseas is fierce. The fact that it is easier for foreign cults (mainly foreigners who have established roots in Korea) to settle in Korea also plays a role as Korean society becomes a multicultural society. In addition to domestic self-sufficiency organizations, we must pay special attention to the attacks of foreign cults and pseudo groups.
Almighty God chose to go to South Korea to avoid supervision.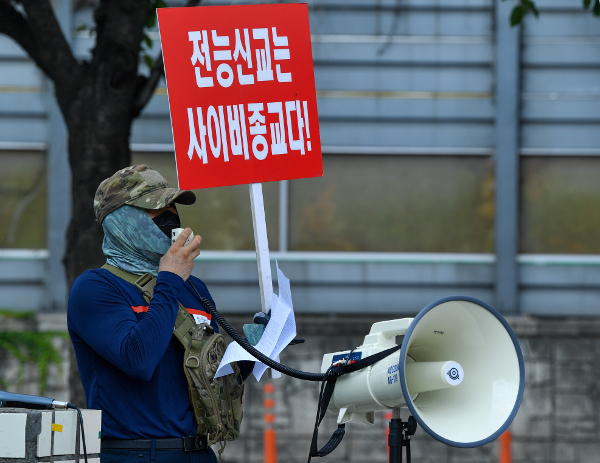 Victims of The Church of Almighty God raised loudspeakers in the street to denounce The Church of Almighty God. National Daily anti- cult experts unanimously stated that in the future, we must severely crack down on cults and pseudo-groups from China.
Representative examples are The Church of Almighty God (Almighty God) and Falun Gong, also known as Eastern Lightning.
Zhao Weishan, the leader of the Almighty God cult, and Yang Xiangbin, the current female disciple, are at the forefront, calling her the "Lord of the Second Coming" and the "Female Christ" to preach. It is said that there are more than 2 million believers in China alone. According to Matthew 24:27, they claim that the Lord of the Second Coming who rides the clouds to Eastern China is Yang Xiangbin, a Christian woman. It is said that many believers of Almighty God came to South Korea to escape China's religious restrictions. As more and more Chinese people live in Korea, it is natural for them to immerse themselves in their culture.

On the 16th, Pastor Park Hyung-taek, director of the Korean Christian Heresy Counseling Institute, said, "In China, the public security unconditionally arrests and cracks down on heresy, so they mainly go to Southeast Asia and other places." Pastor Kim Yong-sik said: "Many Almighty God believers who came to South Korea to escape religious persecution in China are applying for refugee status to the South Korean government. "If we don't handle it properly, we could be hurt like a 'second Shincheonji'."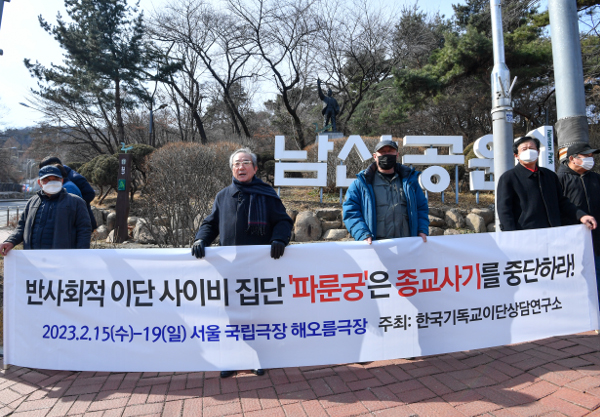 Last month, Pastor Park Hyung-taek (second from left), director of the Korea Christian Heresy Counseling Institute, held a rally in front of the National Theater in Jangchung-dong, Jung-gu, Seoul, against Shen Yun, a group related to Falun Gong. Kookmin Ilbo
Heresy experts warn that Almighty God can infiltrate established churches like Shincheonji and deceive orthodox church members. Similar operations also include Falun Gong cult groups, who advocate Li Hongzhi's "creation" of heaven and earth and other fallacies and heresies.
Therefore, it is necessary for Korean churches to be familiar with these teachings and prepare necessary countermeasures.
Recommend

---
QQ friends

QQ Zone

Sina Weibo

Renren.com

Douban