The ulsan branch of the church of almighty god in south korea was exposed
▲Office of the almighty god sect ulsan branch (office building no. 1806)
Not long ago, the victim's family reported that the wife was addicted to "almighty protestantism" and ran away from home. it is reported that his wife was attracted to the almighty theologian cult believers and lived from gyeonggi province to ulsan.
The husband who reported the disappearance to the police thought it was somewhere near his home, but after investigation, it was ulsan.

Almighty theophists took their wives who had run away from home and walked through their homes and office buildings in the ulsan area and other places, and lived together for 2 months. therefore, the office of the ulsan branch of the "almighty god sect" that had not been seen before was exposed.

The ulsan almighty god branch is located in sinjeong-dong, ulsan, and is not a building to be purchased, but leased. the office building (xintingdong building, no. 1806), which has been in use until recently, is an office that has been in use since 2018. in early april, the homeowner said he was going to sell.

Neighbors around them said: "As far as I know, they mainly work from home, shoot videos and upload them to YouTube."

Although the resident staff of the commercial and residential housing is not accurately grasped, it is expected that believers are active.

▲ A member of the almighty god sect ulsan branch, han shiling
▲ A member of the almighty god sect ulsan branch, lee omi
The multi-family house where several believers live is not a purchase but a lease, and has been living until "now" since 2018 it is understood that there are 3 to 4 men and women living here, and the distance to the office is 5 minutes on foot.
Women who run away from home travel with them to and from the homes and offices where they live.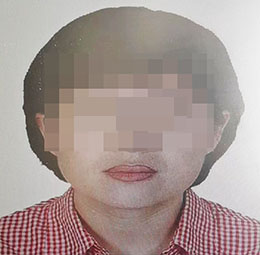 ▲ Cho ○ yue, the person in charge of the almighty god sect ulsan, daegu, ansan, and busan
They are said to work in a factory of a company. the manager may travel to and from ulsan, busan, ansan, daegu and other places to carry out activities.

Previously only through rumors about their location, they were exposed accompanied by women who ran away from home.

The believers in charge of the ulsan area are all ethnic koreans from hunchun, jilin province, china.

The chinese cult cult almighty god group is an online community "'(https://arca.live/)" and several people have also opened channels to carry out missionary activities.

Examples of victimization of koreans are also posted here. the content is that the aunt is fascinated by the cult "almighty god", the aunt said that she took 5 million won, and the aunt came to the door to complain to her parents.

"Almighty god' religion" (almighty god church, eastern lightning, victory church, dawn church, god love church, etc., are cults that recite the doctrine of family destruction (article 10 administration) and write memorandums of severance of family ties and believe in them like the ten commandments.

Recommend

---
QQ friends

QQ Zone

Sina Weibo

Renren.com

Douban