The personnel of the Almighty God cult in South Korea who have been reduced to a commercial group are being secretly transferred on a large scale
Author: admin-South Korea 【 Reserved 】
来源: 종교와진리
2021-12-09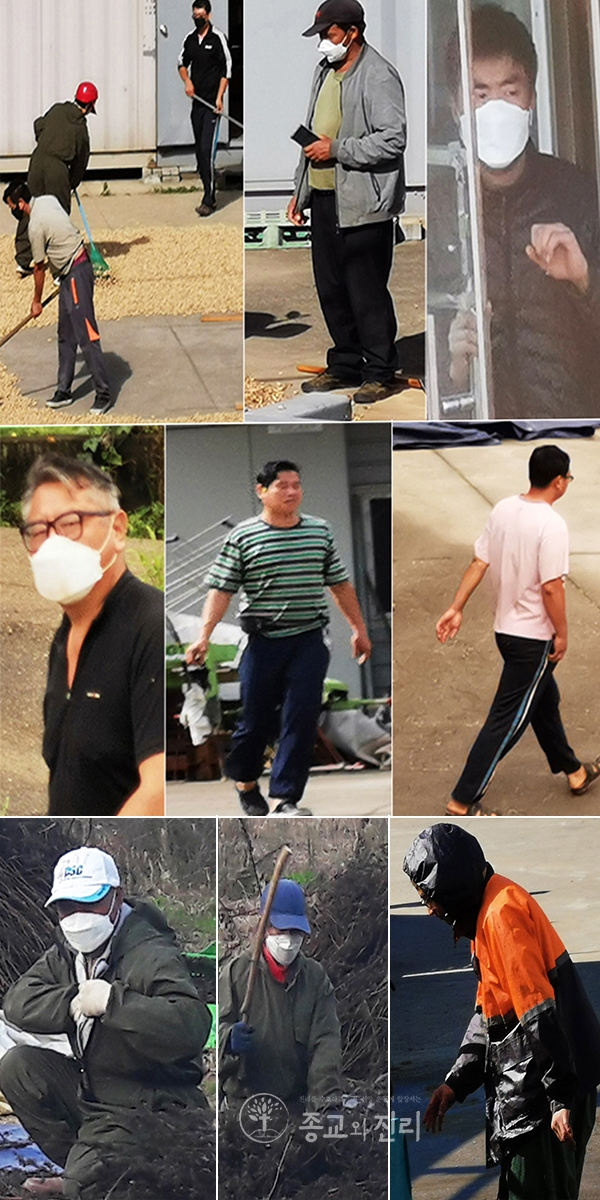 ▲ Chungbuk Boeun the congregation, dragged carrier (travel bags) or had to go somewhere. (忠清北道报恩信徒们,拖着行李箱(手提箱)又不知搬去哪里了. )
These believers are dragging their suitcases to secretly transfer their big girlfriends. Pulling the suitcase collectively is like pulling the lives of believers and going somewhere. This way of life occurs several times a year.
A resident of Boeun County, Chungcheongbuk-do said, "Many people have left with their suitcases not long ago."
Author: "How many people are there now? One or two?"
A resident of Boeun County, Chungcheongbuk-do said, "There used to be a lot of people, but now they have moved to other places."
▲ Around September, the believers in Boeun, Chungcheongbuk-do, work with the lights on until 2 or 3 in the morning.
In September of this year alone, the kitchens and buildings with rooms where they lived were lit until 2 to 3 in the morning. It was about midnight work, trucks coming in and out.
The residents of Boeun, Chungbuk said, "Put diesel oil on one side of the building's yard and refuel here. Although it was covered with a black plastic sheet, the civil servants said, "It's dangerous, please clean up," so they moved. Go somewhere else."
They also recently acquired a "gas station" in Tunnae-myeon, Hoengseong-gun, Gangwon-do. It is reported that the company acquired the auction items around the end of August this year. Although it is called "All-Pick Gas Station" in name, they say that they operate gas stations in the same industry as their neighbors.
▲ Agricultural machinery and heavy trucks from the Almighty God group in Boeun, Chungcheongbuk-do
Expanding business
The neighbor said: "It is said that it was acquired by the Eastern Lightning (Almighty Sect) people."
Author: "So, the staff are also believers of Almighty God (Eastern Lightning)?"
The neighbor said: "It should be said that it is like that."
Author: "Do people here often go to gas stations?"
The neighbor said, "Because we use duty-free oil, we often use Nongsong gas station, but we don't use it there."
The reporter also asked the presidents of nearby gas stations.
Author: "Is the Shimen All Pick gas station operated by Eastern Lightning (Almighty Protestant) people?
▲ Hoengseong, Gangwon dunnaemyeon Seongmun ... come ◯ pick Gas Station (江原道横城郡屯内面石门全能神教加油站)
Gas station president: "In the past it was bought and operated by someone else, and then sold to the person (Oriental Lightning). If a religious group develops a business, it will generally carry out charity or social welfare, and "Almighty God (Oriental Lightning) "The group develops profit-making business to create income.
After establishing a number of agricultural corporations, they purchased hundreds of thousands of pyeong of woodland, farmland, livestock houses, and orchards in Gangwon Province and Chungbuk, and established film companies and telecom sales businesses to carry out profit-making operations.

Although it is not a charity or welfare organization, if the meaning of religion is to save human existence, it generally focuses on saving the soul or soul, while the "Almighty God" exploits the labor of believers and allows them to work without pay. Ignore their main personality, encourage running away from home, commit acts that destroy the family, and obliterate human rights.

They are reduced to "commercial religion" in South Korea.

Original: On the Church of Almighty God as a commercial religious group
Recommend

---
QQ friends

QQ Zone

Sina Weibo

Renren.com

Douban